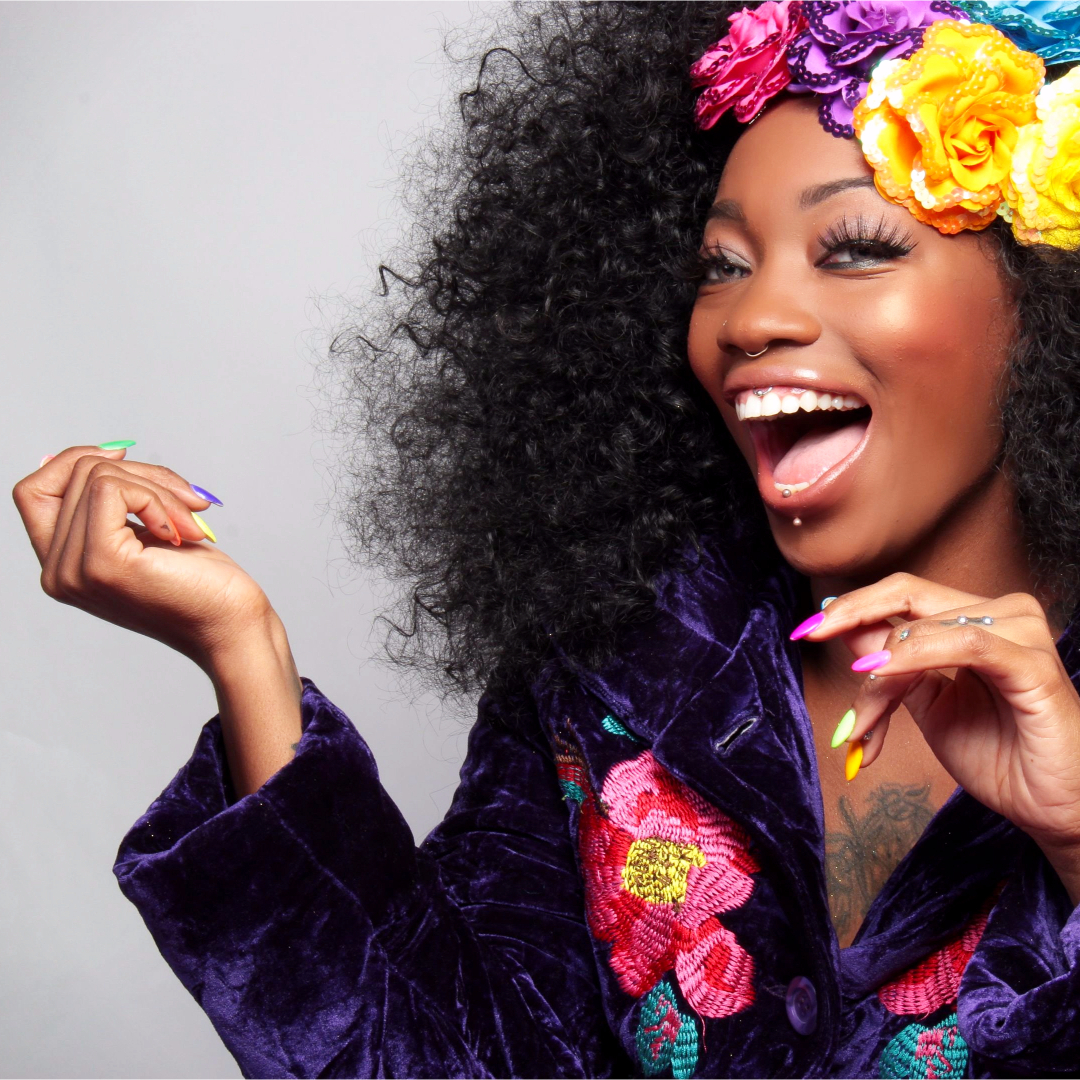 Lock and Key
You Don't Know
Race Jones
I dont think of myself as a poor deprived ghetto girl who made good. I think of myself as somebody who, from an early age, knew I was responsible for myself, and I had to make good.
Oprah Winfrey
Recent posts from the blog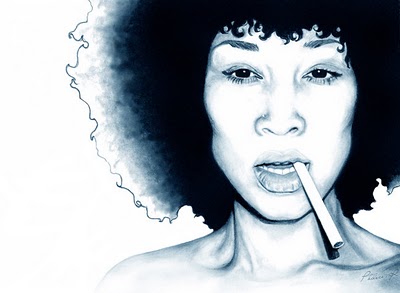 Philece R. is *That Artista*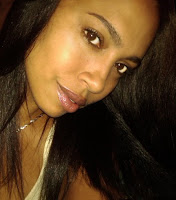 When I came across Philece's work, I knew I had to interview her for the site. Read on to find out more about her. 
*Describe your art work in your own words*
I paint what I feel so my artwork comes straight from the heart. It's soulful, vivid, sexy and many times emotional, sometimes subtle always truthful.
Tell me a bit about your background: Where are you from? What was it like
growing up there?
I'm from Nassau, Bahamas….born and raised and I'm an island girl through and through. I am blessed to have had a wonderful childhood and the love of a large close-knit family. Much of which has everything to do with who I am today. I was a major tomboy, somewhat of a closet geek, the child who loved sitting with my grandmothers absorbing and appreciating the tales and wisdom of those before me. Not much has changed I'm still that eager little girl, just all grown up now and a little further away from home.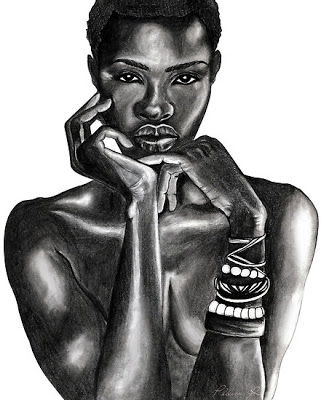 Eve By Philece R
Do you think your background has influenced your work? If yes, how so.
My background has undoubtedly influenced my work from subject matter to color palette. Much of my work carries a part of the spirits of the strong beautiful women in my life, steadfast during hard times, and a riot of laughter in happiness. Then you have the vibrant colors and energy of the island, from the flowers to the beaches, to the people…inspiration is everywhere.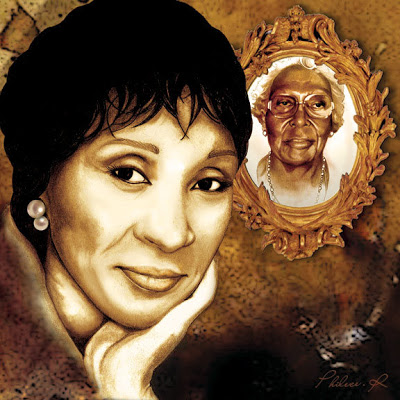 Angelic Presence by Philece R.
What are the main themes/ ideas behind your work?
The journey and emotions of women, good times, bad times …each one tells a story though I may not always share. Even in my more abstract pieces it's about a feeling all derived from a particular moment or a series of experiences or stories I have lived or been told.
Do you seek to convey a particular message with each piece? Is that a part
of your creative process?
My creative process is quite simple. I let it flow. I don't set out to convey a particular message with each piece unless it's for themed show. Being socially conscious, sometimes the message just creates itself. If a cause touches me I create accordingly.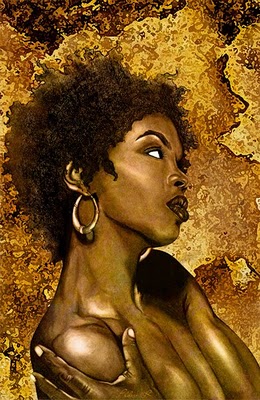 Lauryn by Philece R.
Any favourite artists? How have they influenced you?
I am heavily influenced by the art of Gustav Klimt when it comes to color and texture. The culture and energy in the art of Frank Morrison and the beautiful women and emotions  of Calderon-Gomez's and Stella Im Hultberg's artwork.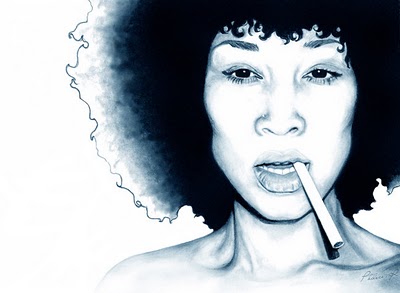 What's your vision for where you'd like your work to be in 5, 10 and 20
years?
There is so much I can vision for what's ahead. Of course presence in galleries and homes is always great. Most importantly is  my continued growth as an artist and as a woman. It's never ending and I'm always on the hunt to expand with what I do. Through nurturing the talent of children by starting a Visual and Performing Arts program and my continued involvement within the non profit sector. Oh and of course to keep sharing my love as I enjoy this journey of living my Creative Truth!
Where can we see more of your artwork?


You can find my work online at http://thecreativetruth.com. I also have two online stores where you can purchase prints http://philecer.redbubble.com and some of my smaller originals and prints at http://creativetruth.etsy.com
I'm on twitter: http://twitter.com/thatArtista
Parting Words/Thoughts?
Stay positive and inspired in whatever it is that your heart desires. The journey isn't always easy but when you love what you do it doesn't even matter, you just keep pushing.  Loving, learning, growing, evolving…living my creative truth. Peace…thatArtista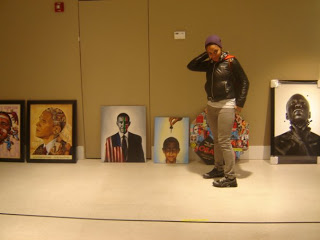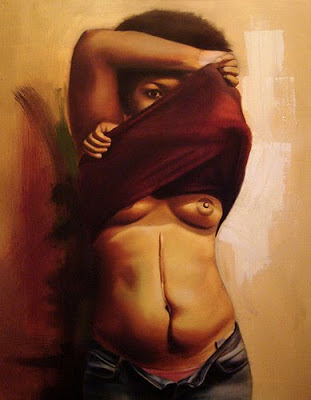 Meet Tatyana Fazlalizadeh. She creates visually arresting images that you'll find yourself staring and staring at.
Tell me a bit about your background?
Well, I actually grew up in Oklahoma City, OK. I came to Philly about 6 years ago to attend the University of the Arts. Oklahoma is very slow and conservative – a little different from my personality – so I fit very well in Philadelphia and I love it here! There is this raw, unpretentious feel here that I haven't felt anywhere else.
Do you think your background has influenced your work? If yes, how so. If no, what have been your main influences?
I am influenced by my background. The way I was raised, the books I've read, my ethnic makeup (Iranian and African-American), have all helped in sculpting me as a person, subsequently influencing my art. Outside of my background, I'm inspired by many things: the distress and injustices that people around the world continue to experience, the beam of a child's innocent smile, the solemn look in a heartbroken woman's eyes. I'm an oil painter focusing on figures and portraits – portraits of people that have affected my life and/or the world that I live in. Whether it is a musical artist or, a fictional character that has helped in stereotyping Black people or, a best friend.
Most of your work has a socio-political element. What are the topics/issues that drive you to paint.
I use paint as my voice. There are many socio-political topics that affect me directly – such as misogyny, race, health care. I try to make a statement, an argument, something about these topics and others. I try to focus on issues that I am passionate about. And issues and topics that interest me. The treatment of humans in history and the present interests me. Also, I work as a free lance editorial illustrator, so it's a part of my job to stay current on today's news and politics and to translate them to a visual image.
Congratulations on having your work featured in the Art for Obama book. How did it feel to have your work in that publication. (Editor's note: This book is a collection of artists' representations of Barack Obama)
It felt great. The book is a compilation of the artwork that was displayed at Manifest Hope, an exhibition held in DC during the inauguration. That entire experience was so amazing, definitely the most exciting moment of my career. The show was open for 3 days and for 3 days it was packed with people – celebrities, politicians, Obama supporters. To be in such a huge exhibit with highly profiled artists like Shepard Fairey and Ron English, was incredible. The energy in DC during that time was beautiful.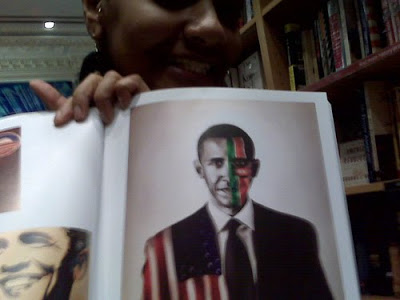 Any favourite visual artists? Do you think these artists have influenced your work. If yes, how so.
Yes – Kara Walker, Barkley Hendricks, Johannes Vermeer,Mustafa Maluka, Tim O'Brien, Richard Schmidt. Some more contemporary artists that I enjoy: Kehinde Wiley, Dan Witz, Mickalene Thomas. I think most of these artists have influenced me as an artist in some way; Kara Walker's boldness and thoughtfulness in subject matter, Richard Schmidt's painting technique. I also find much inspiration in photography. Color, lighting, and composition are huge aspects of photography and I try to make them huge aspects of my work.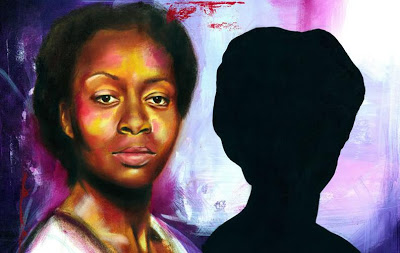 Do you have a vision for where you want your work to be featured in the next five, ten, or twenty years?
Oh, wow. I could give you a whole dissertation for this question! But, I'll just say that I want to grow as an artist. I want to experiment, learn, fail, succeed. I want to become a great artist. And, then, I want to gain much recognition for being that great artist. I'm still relatively young and there are a lot of things I need to learn and experience that I think will help better my work. I expect in the next few years to have gained a much bigger name for myself in the art scene – with commissions, original art sales. published illustrations. Eventually I will open a gallery, maybe teach. The goal for now is to experiment and grow.
Where can we see more of your artwork?
My work can be seen in a few places on line. My portfolio: http://tlynnfaz.com/. My blog: http://blueingreenonrepeat.com/. I also have an Etsy shop where I sell prints: http://www.etsy.com/shop/tlynnfaz. My blog is updated with new work and information on my upcoming shows. Right now, I am exhibiting work at the Brooklyn Artist's Gym in Brooklyn, NY. I also have an illustration in the current issue of The Source magazine. Just check my blog and you will find info on where my work is currently being featured.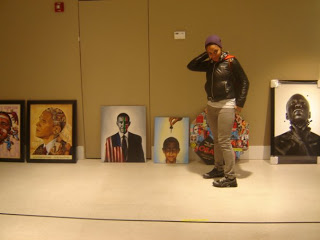 Parting words/Thoughts?
I appreciate blogs, like this one, that highlight black women artists. The support is definitely needed with an art scene dominated mostly by white males. Thanks for sharing my art to a few more people of the world.
Hot Content!
Content I love
How Much Longer Are You Willing to Not Get What You Want?

by

Rosetta

on March 21, 2018 at 8:39 pm

One of the most valuable lessons I've learned from surrounding myself with successful people is how to think BIG not just in my business, but in my life as a whole. In addition to investing in some of the best mentors, coaches and experts, I've done a lot of deep work to strengthen my mindset... The post How Much Longer Are You Willing to Not Get What You Want? appeared first on Happy Black Woman. […]

HBW 112: How to Stop Settling for a Plan B Life

by

Rosetta

on March 15, 2018 at 10:28 pm

I just got back from Dubai where I was so inspired to play a bigger game in my life and business! Many women go for years pretending to be okay with not getting what they want instead of doing what it takes to achieve the AMAZING vision they've been dreaming of since they were little... The post HBW 112: How to Stop Settling for a Plan B Life appeared first on Happy Black Woman. […]

Are You Settling for a Plan B Life?

by

Rosetta

on March 13, 2018 at 9:36 pm

Over the years since I first started Happy Black Woman, I've achieved several big goals for my life and business such as quitting my job, launching 2 businesses, hosting dozens of transformational events for Black women around the world, coaching and mentoring my dream clients, growing my current business to multiple 6-figures, being able to... The post Are You Settling for a Plan B Life? appeared first on Happy Black Woman. […]