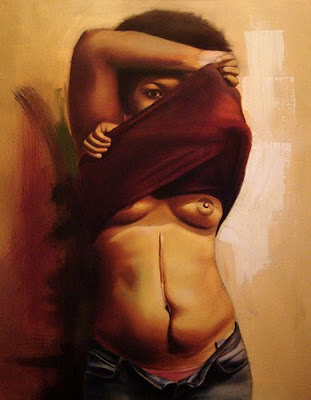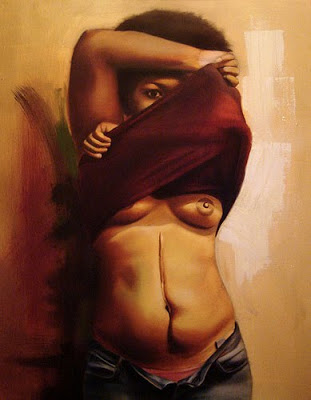 Meet Tatyana Fazlalizadeh. She creates visually arresting images that you'll find yourself staring and staring at.
Tell me a bit about your background?
Well, I actually grew up in Oklahoma City, OK. I came to Philly about 6 years ago to attend the University of the Arts. Oklahoma is very slow and conservative – a little different from my personality – so I fit very well in Philadelphia and I love it here! There is this raw, unpretentious feel here that I haven't felt anywhere else.
Do you think your background has influenced your work? If yes, how so. If no, what have been your main influences?
I am influenced by my background. The way I was raised, the books I've read, my ethnic makeup (Iranian and African-American), have all helped in sculpting me as a person, subsequently influencing my art. Outside of my background, I'm inspired by many things: the distress and injustices that people around the world continue to experience, the beam of a child's innocent smile, the solemn look in a heartbroken woman's eyes. I'm an oil painter focusing on figures and portraits – portraits of people that have affected my life and/or the world that I live in. Whether it is a musical artist or, a fictional character that has helped in stereotyping Black people or, a best friend.
Most of your work has a socio-political element. What are the topics/issues that drive you to paint.
I use paint as my voice. There are many socio-political topics that affect me directly – such as misogyny, race, health care. I try to make a statement, an argument, something about these topics and others. I try to focus on issues that I am passionate about. And issues and topics that interest me. The treatment of humans in history and the present interests me. Also, I work as a free lance editorial illustrator, so it's a part of my job to stay current on today's news and politics and to translate them to a visual image.
Congratulations on having your work featured in the Art for Obama book. How did it feel to have your work in that publication. (Editor's note: This book is a collection of artists' representations of Barack Obama)
It felt great. The book is a compilation of the artwork that was displayed at Manifest Hope, an exhibition held in DC during the inauguration. That entire experience was so amazing, definitely the most exciting moment of my career. The show was open for 3 days and for 3 days it was packed with people – celebrities, politicians, Obama supporters. To be in such a huge exhibit with highly profiled artists like Shepard Fairey and Ron English, was incredible. The energy in DC during that time was beautiful.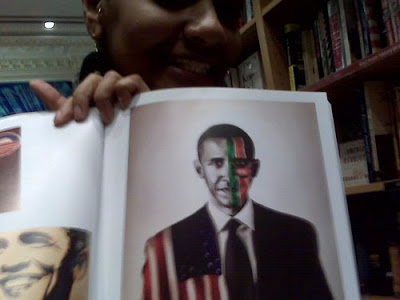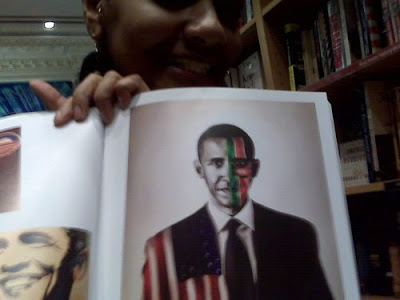 Any favourite visual artists? Do you think these artists have influenced your work. If yes, how so.
Yes – Kara Walker, Barkley Hendricks, Johannes Vermeer,Mustafa Maluka, Tim O'Brien, Richard Schmidt. Some more contemporary artists that I enjoy: Kehinde Wiley, Dan Witz, Mickalene Thomas. I think most of these artists have influenced me as an artist in some way; Kara Walker's boldness and thoughtfulness in subject matter, Richard Schmidt's painting technique. I also find much inspiration in photography. Color, lighting, and composition are huge aspects of photography and I try to make them huge aspects of my work.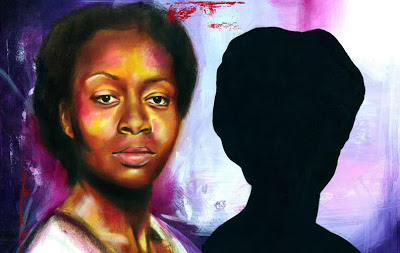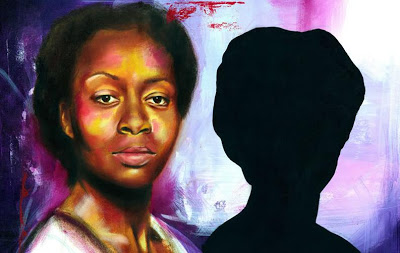 Do you have a vision for where you want your work to be featured in the next five, ten, or twenty years?
Oh, wow. I could give you a whole dissertation for this question! But, I'll just say that I want to grow as an artist. I want to experiment, learn, fail, succeed. I want to become a great artist. And, then, I want to gain much recognition for being that great artist. I'm still relatively young and there are a lot of things I need to learn and experience that I think will help better my work. I expect in the next few years to have gained a much bigger name for myself in the art scene – with commissions, original art sales. published illustrations. Eventually I will open a gallery, maybe teach. The goal for now is to experiment and grow.
Where can we see more of your artwork?
My work can be seen in a few places on line. My portfolio: http://tlynnfaz.com/. My blog: http://blueingreenonrepeat.com/. I also have an Etsy shop where I sell prints: http://www.etsy.com/shop/tlynnfaz. My blog is updated with new work and information on my upcoming shows. Right now, I am exhibiting work at the Brooklyn Artist's Gym in Brooklyn, NY. I also have an illustration in the current issue of The Source magazine. Just check my blog and you will find info on where my work is currently being featured.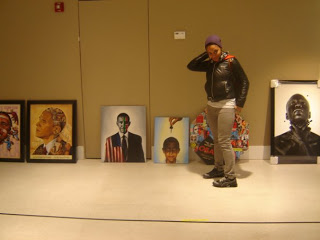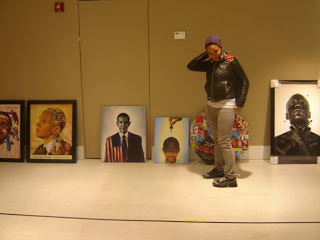 Parting words/Thoughts?
I appreciate blogs, like this one, that highlight black women artists. The support is definitely needed with an art scene dominated mostly by white males. Thanks for sharing my art to a few more people of the world.