(Editor's Note: I've been writing and rewriting the intro for the last five minutes to try not to sound too gushy. But really I'm so happy to share this with you guys today. Why? Because I've admired the strength of Camille's body of work for so long. She also seems like a really cool and sincere person. Hope you enjoy.)
What made you decide to start creating jewelery?
Well, I didn't intend to, at first. I wanted to fix some jewelry I had, and doing the repairs myself made me feel empowered to start creating my own items! I stumble upon some cute items in the stores, but there is nothing like creating EXACTLY what I want!
Tell me a bit about your background: Where are you from? What was it like growing up there?
I grew up with both of my parents in the beachy town of San Diego, CA. California is a very ethnically mixed up place to grow up, due in part to the strong military presence. But I was always aware of my Blackness, though it took me a while to learn to embrace it. I always had a love of art, but never had any intention of building my life around it, and I certainly didn't expect to start my own business….
Do you think your background has influenced your work?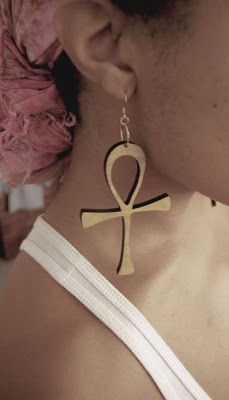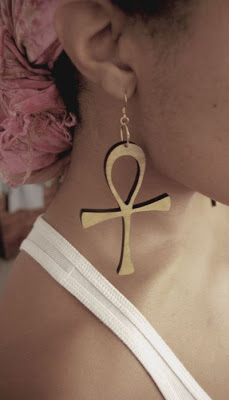 Eventually I started researching about my African and Black American roots, and the information I have learned along that path…has influenced everything I've done since, including my art and my search for identity. And being raised minutes from the beach has given my style a permanent tropical influence 🙂 I love natural elements and bright colors.
Do you seek to convey a particular message with each piece? Is that a part of your creative process?
Absolutely. I love to feel the energy of my people when I work, sometimes explicitly, sometimes subtly. I use a lot of symbols from the African diaspora like ankhs and beads, and I want people to be able to connect my work to the motherland and draw feeling and identity from that. Our beautiful history has been hidden from us.. it's time we remember. Our future depends on it. I like to think of my pieces as breadcrumbs to our past. We descend from warriors, cosmological and mathematical geniuses. There is no reason why Black people should be in the current state we are.
Any favorite designers or artists? How have they influenced you?
I love Melody Ehsani for her ability to blend her spiritual beliefs with her craft. She also makes it her responsibility to remind us that we should discover our purpose and walk in it. A key to life.
I love Salvador Dali's paintings for their existentialism. He reminds me that if I'm not going to create exactly what I want, regardless of what others think, there is no point. I'm inspired by Badu's i-don't-give-a-fuck attitude. She too makes it her responsibility to educate the masses on the real. And she does it in a way that we can understand. That is key! "what good do your words do if they can't understand you?" Banksy's anonymity and spontaneity inspire me.
Tell us about your Spring Collection..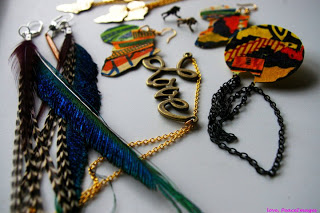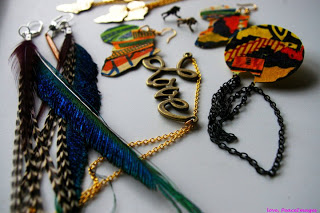 I recently dropped my Spring Collection at the end of January! I stayed true to my love of Kemetology, size, color and shape.
I mixed metals with acrylics and wood and I really allowed my brain to go wherever it wanted. I've got huuuge statement necklaces all the way down to simple, elegant drop earrings with precious gemstones. Huge stud earrings with bold shapes, rings dripping with peridot! There really is something for everyone 🙂
What's your vision for where you'd like your work to be in 5, 10 and 20 years?
The longer I'm alive, the more I realize that where I want to be in 5, 10 and 20 years only matters so much. The universe will put me where it wants. All I want is to continue to work hard on my passion everyday, serve the creator, and prepare myself for any and all opportunities that may come my way! I hope to continue to send my creations all over the world, constantly improve on my craft and inspire others, donate money to non-profits and provide a comfortable life for my future family and parents 🙂
Where can we see more of your jewelery?
Facebook fanpage: http://www.facebook.com/#!/pages/PeaceImages-Jewelry/172182566154551
Parting Words/Thoughts?
Passion comes in many forms and I'm finally learning to accept that. No matter what your passion is, it's beautiful and it should be what you make your life about. It creates an energy that others feel. It unlocks doors and provides a divine motivation that fuels you everyday.