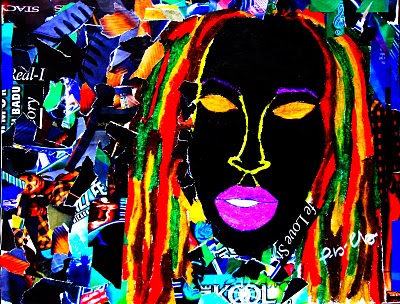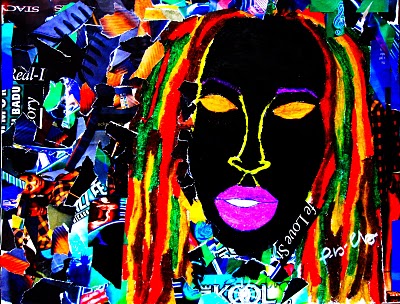 (Truth by Tarra Louis-Charles)
Tell me a bit about your background: Where are you from? What was it like growing up there?
I'm Haitian American, took my first breath in Brooklyn, NY. My mother was achiv single parent and struggled raising my sister and I. We lived a nomadic lifestyle, constantly moving within homes, states, and countries. However, the most memorable "home" for me was Haiti. I lived there for 4 years and I felt a strong connection with my heritage.
Although I woke up to poverty each day, the great sense of humor and resiliency that us Haitians possess, was priceless and invaluable.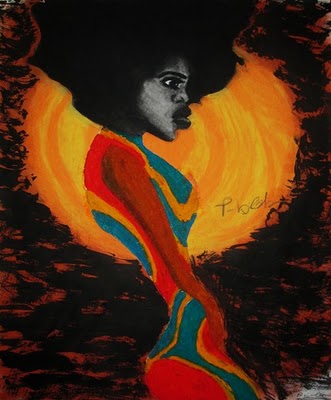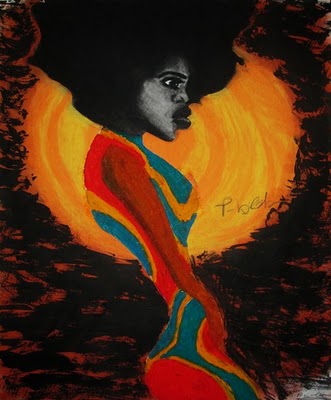 (Introspection by Tarra Louis-Charles)
Do you think your background has influenced your work? If yes, how so
My background definitely influence my work. I use bright warm colors in my art to represent my Caribbean culture. Most of my work is abstract due to the duality of personal and cultural identity. Although I identify myself as Haitian, I am still American and carry strong americanized values. I try to integrate both cultures within my art, thus making it abstract.
What are the main themes/ ideas behind your work?
Growing up, I rarely saw positive images of black women in the media, but all the women I knew and met were strong, beautiful, smart, and quirky. Hence the main themes/ideas behind my work is simple black women who love themselves and recognize their beauty, uniqueness, and embrace their quirkiness.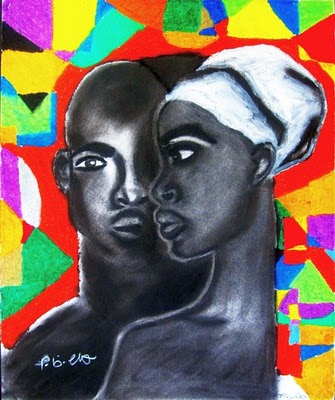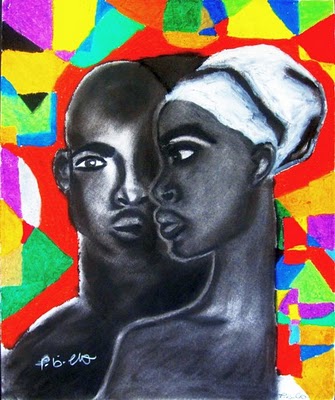 (Different Paths …Moving On by Tarra Louis-Charles)
Do you seek to convey a particular message with each piece? Is that a part of your creative process?
Drawing used to be (still is actually) a mere hobby for me and is based on my feelings. I have no formal training and experiment with whatever I have lying around.
It was recently that I realized that art is my purpose and decided take this more seriously and expose my imagination.
I was told from professional artists to try to convey a message in my artwork, however when I do, the messages are interpreted differently by people. So I figured to leave everything up for interpretations, allowing appreciators of art to have their own unique experience.
Any favourite artists? How have they influenced you?
Yes I do indeed. Frank Morrison, Larry "Poncho" Brown, and Tamara Natalie Madden are my favorites. Back in college when I first saw Frank Morrison's and Larry "Poncho" Brown's artwork, I swear my heart skipped a beat. I started saving my lunch money in order to buy more materials (besides pencils) and began experimenting with colors.
Last year, I fell upon Tamara Natalie Madden's artwork, an electric wave ran through my body and I said to myself "omg this is serious business.
I want to be an artist when I grow up". Her work was the ultimate driving focus that pushed me expose what I do and experiment some more.
What's your vision for where you'd like your work to be in 5, 10 and 20 years?
In 5, 10 and 20 years I definitely would like to see my work in exhibitions, art galleries, and of course people's home. I also would like to be an inspiration for young women.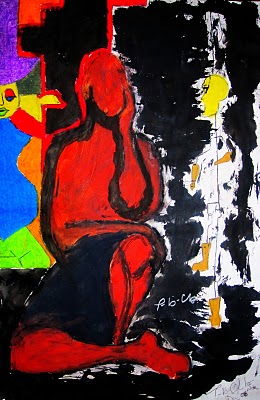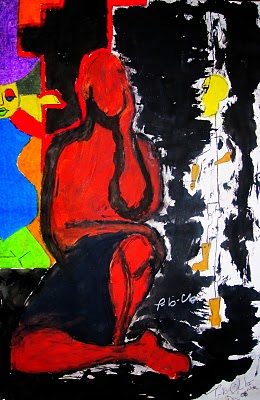 (Unconscious by Tarra Louis-Charles. There's a great story behind this piece. Read it here)
Where can we see more of your artwork?
You can see more of my work on the following websites
http://tarralu.blogspot.com
www.flickr.com/tarralu
www.tarralu.etsy.com
www.facebook.com/tarralu
www.twitter.com/tarralu
Parting Words/Thoughts?
Don't let people plant fear in your mind. Trust your inner voice and keep your dreams alive.